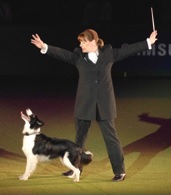 Karen Sykes has been involved in Heelwork to Music and Freestyle since 2001, and has competed, judged and taught around the world. She has had 4 dogs who have competed in the sport and she has appeared at Crufts Dog Show every year since 2002.
Karen is a founder member and Secretary of Canine Freestyle GB (www.caninefreestylegb.com) which is a club dedicated to all those with an interest in the sport both at home and abroad. She is also a founder member of Top Lodge Dancing Dogs (www.dancingdogs.co.uk) which have been the most successful dancing dog demonstration team in the UK.
Competition Success
Fly, Karen's eldest dog, qualified to work the advanced classes in both Heelwork to Music and Freestyle at just 2 years of age. She is now 14 years old and although she no longer competes, she still enjoys dancing just for fun.
2008 Winners of the British Heelwork to Music Competition at Crufts.
2011 Open European Heelwork to Music Champions (Individual and Team title)
2013 2nd place at the British Heelwork to Music Competition at Crufts.
Karen has had 2 dogs in the top 10 of British Heelwork to music and Freestyle for many years and has represented her country 3 times in international competition. She is currently working with Midge, her youngest dog, with a view to competing internationally within the next 18 months.
International Trainer
Travel has been a big part of Karen's life due to her success in Heelwork To Music and Freestyle. In 2010 and 2014 she visited Moscow and St Petersburg to Judge and hold training seminars. She has traveled to many countries such as Japan, USA, Israel, Denmark, Czech Republic, Australia and Switzerland to teach and promote the sport. She has also helped many countries to train their judges.
International Judge
Karen has been invited many times to judge internationally. Her most memorable appointments were:
2007 Crufts, Heelwork to Music, Freestyle and International Freestyle.
2008 Czech Republic
2008 Japan
2009 Swiss Championships, Zurich, Switzerland
2009 Nordic Heelwork to Music and Freestyle Championships in Denmark
2010 World Championships held in Denmark. Lead Judge in Heelwork to Music and Freestyle.
2010 Moscow
2011 Scandinavian Heelwork to Music and Freestyle Championships
2013 Dutch Heelwork to Music and Freestyle Championships
2014 Japan
2014 St Petersburg International Dog Show
Karen says
"I am honoured to be invited to Judge at the 2016 World Dog Show in Moscow. Heelwork to Music and Freestyle are my passion and I love to see dogs of all standards enjoying this sport with their handlers. I am expecting some wonderful routines from the Teams who are representing their countries at this prestigious event. Good luck to you all and have fun!"