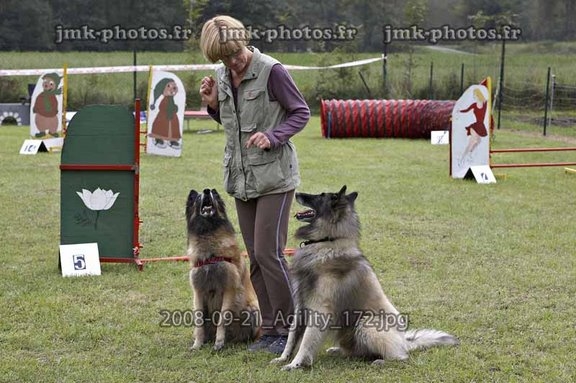 Debra Bénard: I live in France and have been a judge of canine freestyle and HTM in Switzerland (Dogdance association) since 2007.
I first discovered Heelwork to Music in 1998, thanks to a video of Crufts. When I saw Mary Ray's performance with her wonderful dog Kizzy, to "Hooked on Classics", I was hooked!!!
In 2000 I attended an agility seminar in England and met Mary and Dave Ray in person. Their friendship and encouragement, and the lessons I have learned while watching Mary with her dogs close up, have sent me on my way.
In France at that time, no one knew anything about HTM or freestyle. My objective was, through articles in the magazine Sans Laisse, to popularize this wonderful sport.
The articles were published starting in 2001; the year 2004 saw the inauguration of a website, www.obe-rythmee.com, which is still used by French speakers in learning the basic moves.
In 2005-2007 I collaborated with Attila Szkukalek to translate into French and record the French voice-over for his two wonderful videos, "Rhythmic Paws" and "Rhythmic Paws II". The first video demonstrated the brilliant freestyle moves in his "Charlie Chaplin" routine, while the second concentrated on the amazing distance work in "Gladiator".
Working with Attila on that project gave me the closest possible insight into advanced training techniques. Thank you, Attila!
However, I will be the first to admit that my work with my own dogs in the ring has not been overwhelmingly successful. I have had two Shelties and two Belgian Tervuerens, all equally brilliant in doing dogdance – backstage!
As they say, "Those who can, do – and those who can't, teach"
Or - serve as judges. Somebody's got to do it – otherwise, there would be no competitions!
So: knowledge of the sport, sensitivity to the efforts of the dogs and handlers who practise it and commitment to the proper application of its rules, these are the things I hope to contribute while judging canine freestyle and HTM at the World Dog Show, Moscow, 2016.
This is an immense privilege. I look forward to enriching contacts with my colleagues, both judges and competitors, and will be glad to help out in every way I can, including through my reasonably good knowledge of Russian.
До скорой встречи!
International Judging experience
2014 - Berne - Swiss Open
2014 - Milano
2013 - Lengnau - Swiss Open
2013 - Dortmund - German Open
2013 - Berne
2011 - Freiburg am Breisgau (Germany)
2011 - Waldheimat (Langenwang, Austria)
2010 - Vienna