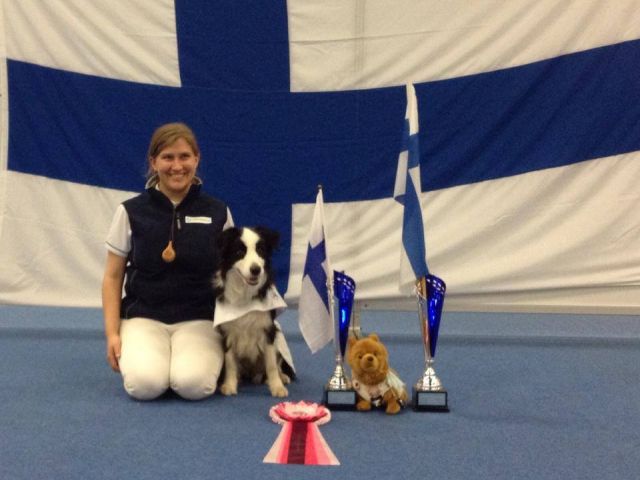 I'm Johanna Saariluoma, a Finnish canine freestyle and HTM judge. I started training freestyle in 2002 and have been judging since 2005. As a judge my most memorable experiences have been judging abroad in international competitions in Russia, the Netherlands and Switzerland and of course at the OEC in 2013. I've also participated in the international judges' seminar in Denmark in 2014 and have been conducting the Finnish judges' training seminar for new judges in 2015. Of course there have also been numerous competitions in Finland that I've been judging, like the Finnish championships in 2014. I judge several times a year and try to compete also continuously, which both I see as big contributing factors to my experience as a judge.
Before I even got my first dog as a teenager I had been competing several years in synchronized skating. I have also trained different styles of dance without my dogs throughout the years (contemporary, tap-dance, oriental, Irish step, theater and musical dance etc.). This background strongly affects my vision of the sport: I very much appreciate the ability to do good musical interpretation with the dog truly included - which in our sport can be done in so many different ways! Other things that I tend to appreciate are a good, happy and respectful bond between the dog and the handler - and a dog that really knows the technique shown!
As for my career as a competitor: I've competed several years with my Icelandic sheepdog "Panda", whose career wasn't exactly smooth sailing throughout the years but taught me a lot. Her highest achievement would probably have been placing sixth in the Finnish championships in 2010. At the moment I'm competing with my bordercollie "Kinna" who has just this year (2015) made it to the Finnish national team in HTM and thus had the opportunity to compete in the Nordic championships for the first time. Kinna competes in the highest class in both HTM and freestyle in Finland at this point. I've also competed a couple of times with other peoples' dogs, but I still prefer competing with my own dog since my main motivation to doing dog sports is to further develop the bond between me and my dog.
I've held a lot of freestyle and HTM classes and workshops throughout the years. Thus my experience of working with different breeds is not restricted to sheepdogs or spitzes although they are the breeds I have owned myself. I also have been privileged to have the opportunity to train other dog sports (I've competed also in obedience, agility and tracking with my dogs), which has helped me to an even better understanding of the way dogs work in different situations.
I've also been a long time along in organizational work in our sport. I was quite young when I started this work being nominated the chair of the Finnish dog dance association Tahtitassut - which I continued leading for five years in a row. Later on I've been working as a member in the dog dance committee of the Finnish Kennel Club for three years (and counting…) and have just recently been nominated to represent Finland in both the NKU and the FCI in our sport beginning 2016. I'm extremely honored to have the possibility to be a part of developing our sport both in Finland an on the international level.
As a judge I am very happy to have been invited to judge in the world championships in Moscow 2016. It's not that often that you get to judge a competition on such a level. I'm sure it won't be an easy task, but I'm really looking forward to seeing a great competition with a lot of talented dogs and handlers - and of course their magnificent routines! I wish all the best for all competitors and hope that you all can enjoy your time in the ring with your best friend.