Russia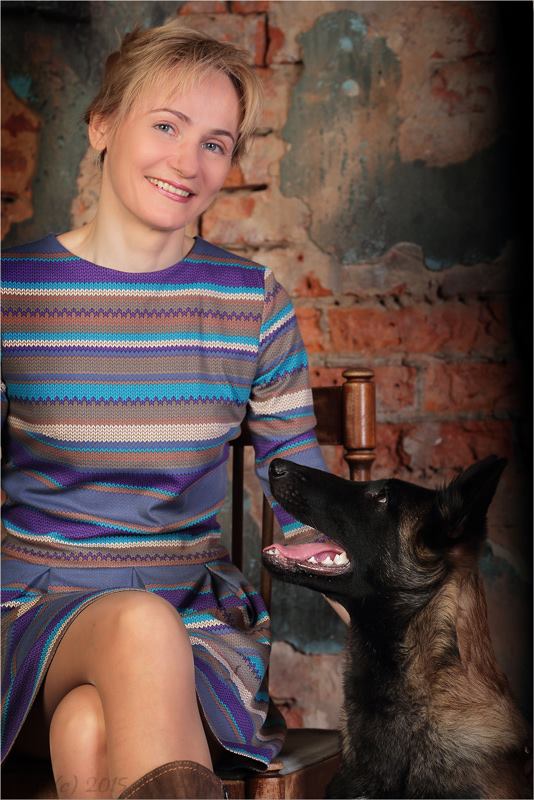 Teamleader:
Ilina Polina, Moscow
Sportsman – Russian Dog Dance champion: 2002, 2006, 2007, 2010, 2011, 2013 (Freestyle), 2014 (HTM), 2015 (HTM), 2016 (HTM).
The trainer of the club Scientist Dog. Club Sportsmans:
Rubljova Natalja – medalist of the European Championship and World Championship 2014 (HTM), Ejbogina Ljudmila – Russian Freestyle champion 2016. The consultant of the winners and medalists of World and Russian competitions – Chogovadze Galina, Kuzina Olga, Alimova Olga, Resnichenko Daria, Gette-Kishenevskaya Tatiana.
The teamleader of the Russian national team since 2010.
Russian national team has the following achievements:
2010 – World Championship, Denmark - 3rd place (Freestyle);
2011 – European Championship, Denmark – 2nd place (HTM) and 1st place (Freestyle);
2012 – World Championship, Austria – 2nd place (Freestyle);
European Championship, Czech Republic – 1st place (HTM) and 2nd place (Freeestyle);
2013 – European Championship, Holland – 1st place (HTM) and 1st place (Freestyle);
2014 – World Championship, Finland – 1st place (HTM) and 1st place (Feestyle).
2014 – European Championship – 1st place (HTM) and 1st place (Freestyle).
Freestyle participants:
Novosеlova Marina and Newfoundland Micha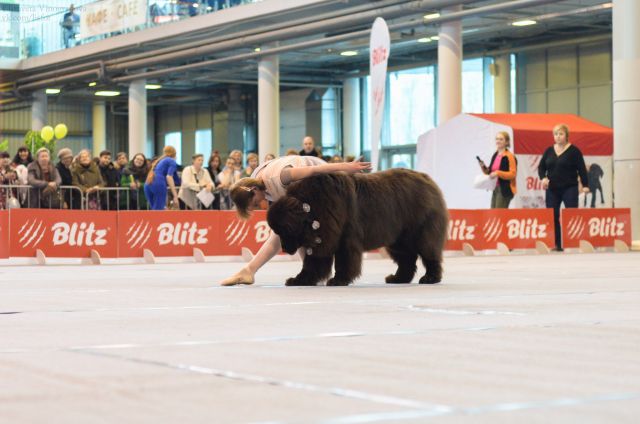 As a true newfoundland Micha took part in water rescue work. But when the water froze we ran a risk to take up a new kind of training - dancing. Not an easy task for a bear-like dog. A little talent, a little luck, and a lot of work - these are the ingredients of our success.
Trainer: selfstudy
Music: "Coachman's dream". We are going to tell how it all happened. And, I swear, it is a true story. Once a coachman with his horse got lost in the forest. The horse reared and the coachman fell off the wagon and hit his head, lost his hat. But the horse was going on being freaky. It started singing with a hoarse voice, remembering the hell in vain and demanding turning back. Well, than they were wandering, found the hat somewhere. And, when finally, the way was found, they started dancing.
We have just told you, without holding anything back, what dream a coachman had on his long way.
Efremova Irina and Papillon UNKAS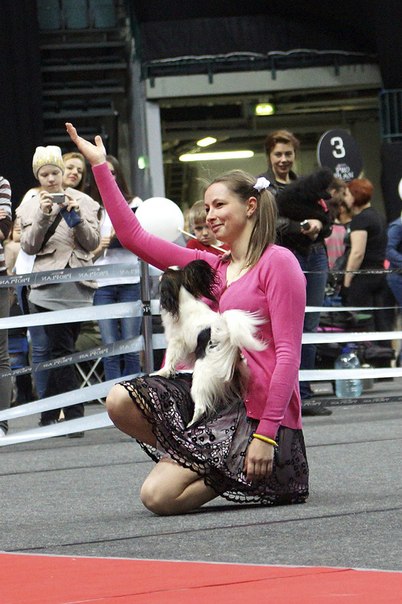 Unkas only looks like a small and delicate dog, but in fact, he is absolutely fearless and a little bit crazy. He is always champing at the bit. Crazy about dancing. It is during the dance when his fiery temper is revealed. It is challenging but interesting to work with him.
Club: Sport Federation of Cynological Sport
Trainer: Kuznetsova Tatyana
Music: "On the summer field..". A story about how annoying butterflies can be...
Eibogina Liudmila and Border collie Nika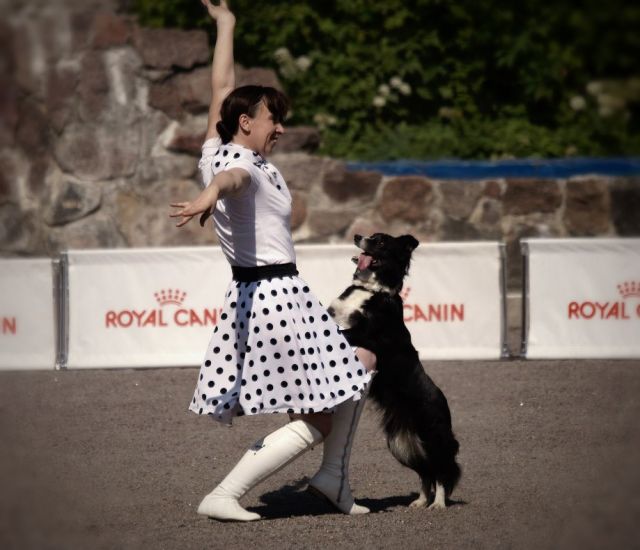 First we met with Nika when she was 7 and since that our life together and our sport dancing life have started. Nika is a very positive, active and happy dog. She really reminds me of myself, we are inseparable. Nika has given me a huge amount of positive emotions and unforgettable sport achievements. I hope, that we are having a lot more of them in the future.
Club: Scientist dog. Saint Petersburg ARKS department
Trainer: Ilina Polina
Music: "The Swan Song". We dance the story of the swans. They are very different. The first Swan is black, the second is white. But they are very good together. We want this Swan song lasted very long and never ends
Ilina Polina and Berger des Pyrenees a poil long HARDY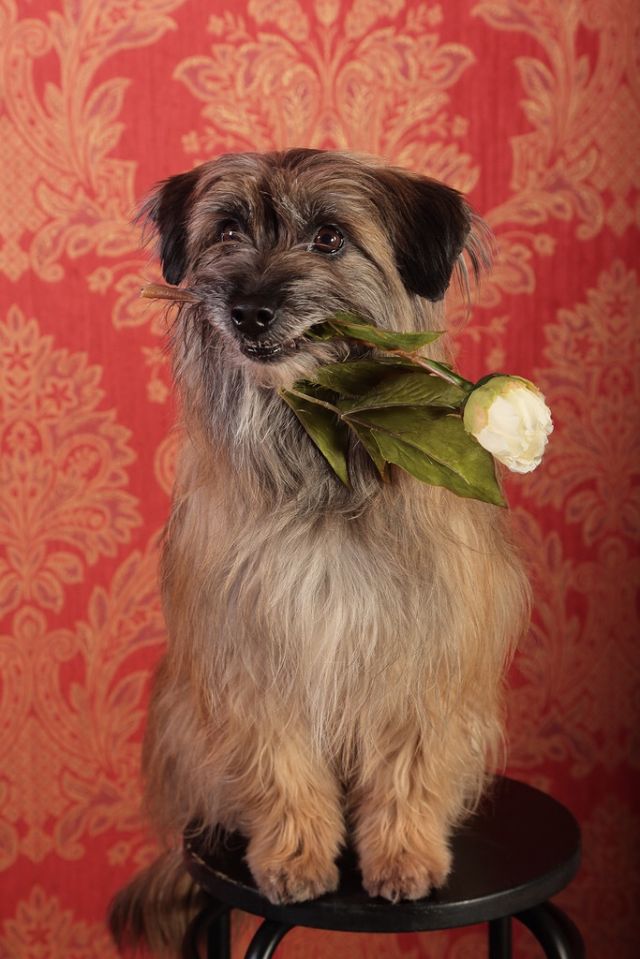 Hardy is a small cute naughty dog. This dog has brought a lot of positive and a lot of activity into my life. We have been enjoying dancing for 6 years already. Our characters from New Year fairy tales, cabaret and Barbie-dolls have been very memorable and exciting.
Club: Scientist dog
Trainer: Ilina Polina
Music: "Fairy tale". Hardi looks like a fun and cheerful character from a fairy tale. That is why we decided to make up a story.
Myznikova Ekaterina and Border collie Artist (reserv)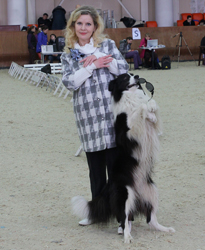 Artitst is an amuzingly musical, creative dog! Very often he suggests himself different elements or dancing figures. And I respect his opinion. I have a wonderful, talented partner, we are both sharing our favourite activity and enjoying it greatly!
Club: no
Trainer: Selfstudy
Music: "A new view". This dance is clear for everybody who sees it: it is about friendship, love, mercy... It tell us that it is always easier to overcome difficulties when there is a true friend nearby!
---
HTM participants:
Butrimova Tamila and Border collie ILLAI
Our path in dancing is rather thorny, Ilay is so rapid and fast, but our mutual love and understanding help us to overcome all the difficulties.
Club: ARKS Chundogu school Saint-Petersburg
Trainer: Pankova Irina Pavlovna
Music: "I am drunk on love". I am drunk with love. We are drunk, but not with wine-we are drunk with mutual love.
Rubleva Natalia and Cane corso REIN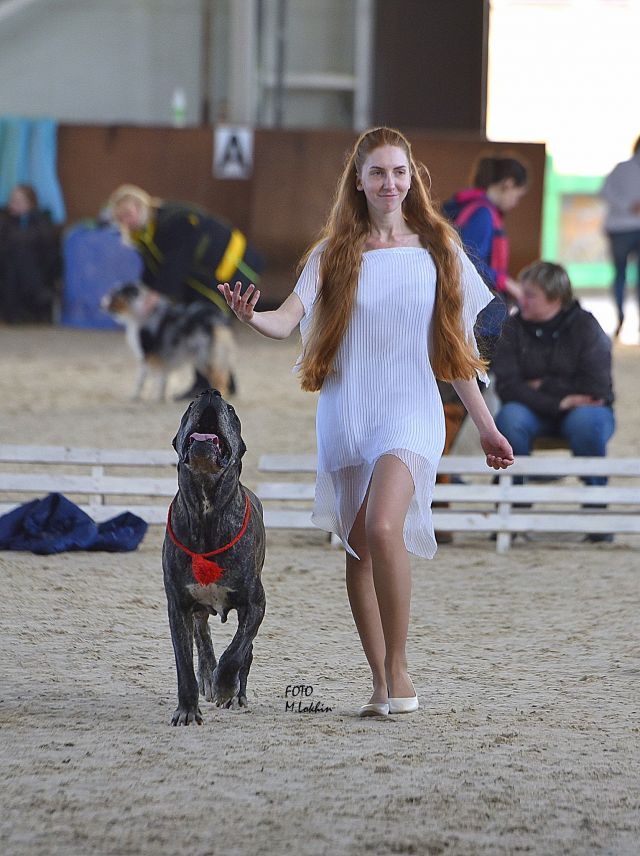 Rein is my most wonderful partner! He started dancing when he was 4, and has become the only dog deserving my total trust! But for the late start, Rein managed to get to the pedestal of the World and the European championship :)
Club: Scientist dog
Trainer: Ilina Polina
Music: "Voland's ball". Darkness and light are inseperable. One can not exist without another.
Ilina Polina and Malinois ILIM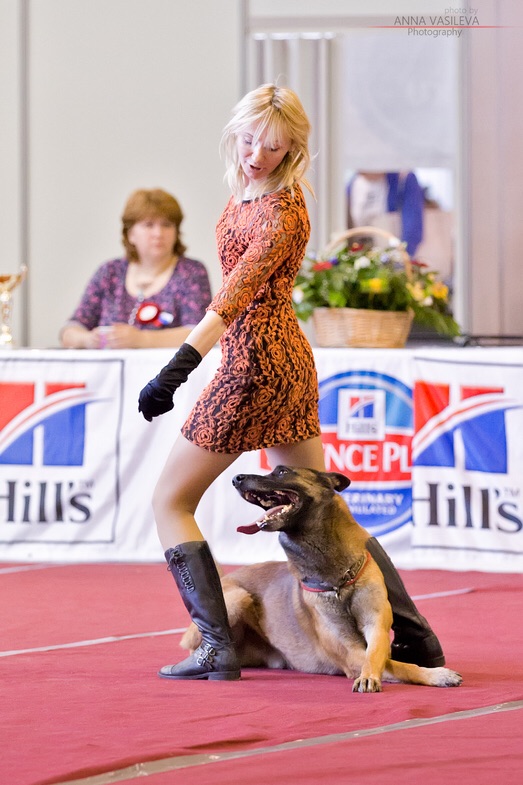 Ilim is a grandson of my beloved Flint – I hope, grandson will not let his famous grandfather down and we will show exiting dancing :). Ilim is a very active and positive dog, I am lucky to have such a friend and a dancing partner. Ilim is a Russian Dog Dance Champion (HTM; 2015 and 2016). Now we are going to try to "conquer the World". :)
Club: Scientist dog
Trainer: Ilina Polina
Music: "Milord". Ilim is getting more and more a gentleman. And our dance is about a nice lady's friend.
Ilina Polina and Alaskan Malamute Indi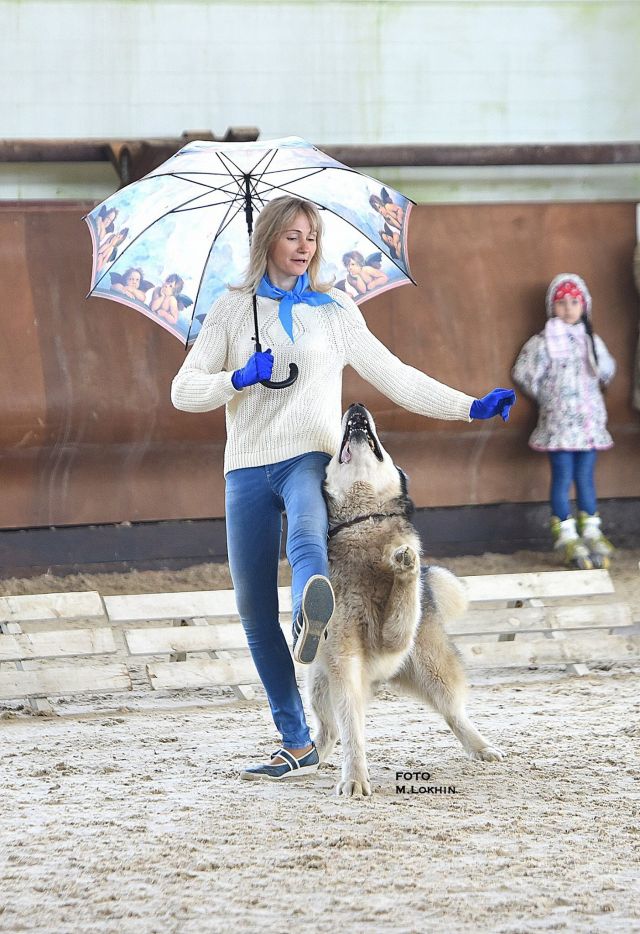 Indi started his studies when he was 5 months old. We mastered the course of general obedience, and then got involved into dancing. It is out fourth dance.
Club: Scientist dog
Trainer: Ilina Polina
Music: "Singing under the rain". It is forbidden to sing during the dog dance competition : but we decided to show how talkative Indi is in our new dance - singing under the rain.
Alimova Olga and White Swiss Shepherd Dog Taifun (reserv)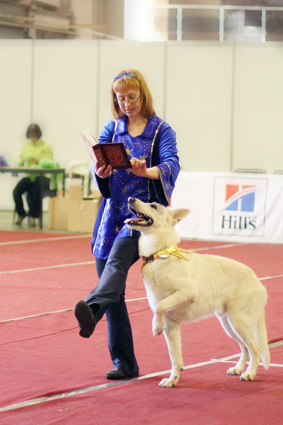 Taifun is a name which 100% suits him. He likes running with a ball or following me when I am skiing in winter. But it does not prevent him from being a sensitive and attentive partner. Taifun is the second dog I am dancing with, but it is he who got me involved into HTM. We are dancing because we are enjoying it. My White friend, I am happy to have an opportunity to dance with him.
Music: "My star". This is a dance about a dream, that we can sometimes fail realising that it is just nearby.